Dishonored: Preview Of Despair
By Benjamin Wilbur. August 10, 2012, 2:31 PM CDT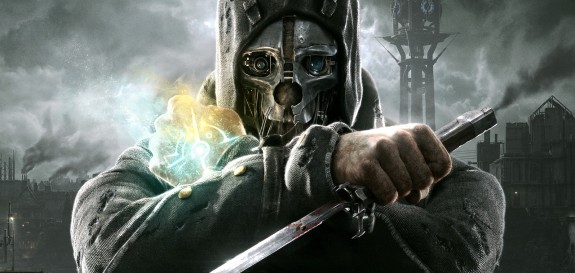 In a press room at QuakeCon, I was treated to an exclusive and deliciously delightful demo level of Dishonored, developed by Arkane Studios. Dishonored features fluid ranged and melee combat in first person with a smattering of mystical powers and a parry system thrown into the bloodshed. Pressing the "skill wheel" button calls forth a wheel of murder, teasing the player with decadent decisions. Players may choose any of the abilities within the wheel, thus encouraging them to beat the level based on their own unique play style (see: video below) on their own terms. I favored teleportation and rat swarms, but possessing people, hurling grenades, and even shooting poisoned darts to knock unsuspecting victims out of lucidity are all viable options. This rad game also has a double jump and the character will actually grab ledges when you jump into them. The levels are essentially miniature sandboxes through which players sneak/stab their way to victory, only here you are the beach bully — and this was the coolest sand mansion I have ever destroyed.
After a brief boat ride and rundown of my targets, I make the supernatural assassin protagonist teleport up the wall and sneaks past a  goon wearing a mech suit on stilts, or tall boy, patrolling a nearby cobbled bridge. The tall boy turns right and I teleport left and fade behind the immediate corner, where I see a paltry group of party guests. One foolish guest-to-be drops his ticket to the masquerade ball. Being a typical supernatural assassin protagonist, I decide to play the sneaky role (for a while) and pick up the ticket. I pass these poor aristocrats, hand the doorman my ticket, and follow him into a verdant oasis wreathed in opulent ornamentation, where a few guests mingle: specifically one I will murder.
I approached Lord Shaw and presented him with a letter. Shaw escorts me to a small side pocket of the Elysian garden while a briefcase with two dueling pistols on a pedestal screams his intent (as does the narrating onlooker). This Lord demands justice; we both take our pistols and begin an old school walk-ten-paces, turn-and-shoot. Being a professional murder-master, I overachieved and (accidentally) shot two guards in addition to my target. I silenced their screams while measuring their squishy insides against the length of my shiv stick and threw all of their corpses into the flowers. This is our little secret.
I hurried to the main door and slipped inside to avoid any nosy guard(ener)s. Confetti explosions set the mood bright while the thriving bourgeois contrast the grim and dark outside with the coolest (and weirdest) masquerade ball I've ever seen. An ornate table laid out a whale with a window cut into its rubbery side to better display the inner dish (more whale). Only the wealthy can make mutilation and fish guts appetizing and classy.
After walking through these epicurean sheep, a gentleman approached me in a freaky bunny mask a la Donny Darko. The gentleman immediately explains that he knows why I'm here and that he must speak with me in private. Obeying my curious whim, I follow his lead to a small study. Here, the gentleman proclaims his love for Lady Esma (my target), though she has spurned him. Not my problem, I'm offered an alternative to killing: kidnapping. All I have to do is knock Esma out and deliver her to this gentleman in the basement. The gentleman sounded a little strange. Honestly,  just creepy. I glanced once more around the room, shivered at the moist, palpable decadence, and agreed to fulfill this man's dark desire.
I spoke to a number of guests to discover more about these odd folks. One guest suggested to another that he should sell his wife into slavery to make a quick buck and would be more than happy to provide a contact. The more people I spoke to, the more nonchalant locutions of war, the plague, and slavery I heard. Obviously, these people deserve to be punished.
Through a number of these conversations, I gathered clues as to the guests and their costumes. After I had adequately explored this epicurean cesspit, I tracked Esma down, guessed her identity as according to this lame (dinner party) game, and flirted with her while wearing the second most creepy mask at the event. Esma asked for a drink and then my company in her bedroom.
Lady Esma began talking to me when I entered the room, but after I read a letter on her dresser stating that she would sleep with the first man that asked her, the second man that asked her, and any others, I felt betrayed by this rich wench and tranquilized her to vicariously calm myself down. I scrambled to the doors, checking both key holes for any notice, but the guards on either side must have heard nothing. So, I left her snoring upstairs, ran downstairs to the basement to ready the area for my escape. I found two maids, darted them, murdered a guard with a swarm of rats, and cleared my escape route.
I ran back upstairs, grabbed the sleeping beauty, and slinked down the squeaky stairs, listening for any nearby footsteps. The last remaining challenge was getting past the doorway to a large (popular) room in the party. I teleported past the door, ran down the stairs two at a time, and (gently) tossed the now enslaved woman to her creepy husband captor. I don't know which was worse, but I figured I'd give her a chance to decide that herself.
Feeling accomplished, and somewhat guilty, I walked back out the front door like nothing had happened. Stupid rich people were too busy with their warmongering and slave dealings. The air was filthy with smog, but it was clear enough to see the last of my worries. These are they: two walkers strolling between two bridges, zombies trying to eat and wear (I suspect) my face, and the guards all searching for somebody suspicious. That same mask that kept me hidden at the party, was like a neon "kill me" sign in public. Oh, and how they tried.
I shoved the plague ridden zombie off with a swift shank, re-killed it with the revolver, teleported behind nearby cover, and swapped my teleport for rats. When I next jumped out, rats burst from the ground at my command leaping onto my frightened foes, gnawing into their hearts. While the guards were too distracted to impede me, I ran into their guard post and tossed a couple of sticky grenades onto a walker through the window. The walker died (gloriously), and behind me, the second began firing. As a quick reaction, I switched the active skill back to teleport, teleported through the window out of the monster's line of sight, and sprinted away towards the escape dinghy and teleported onto it.
I didn't have to complete this level by kidnapping this person. I could have killed everyone¸ but I chose prudence. Would a Dionysian explosion of mass murder driven by a lust for the pulsing spray of crimson fountains beat the level? Absolutely, but I chose restraint. I regret nothing; well, only that I'm not playing this game right now. October 9 can't come soon enough.

Benjamin Wilbur is a dungeon master, writer, and gamer living in Arlington, Texas. He has two cats, one girlfriend, and a whelming wit.