Review: HTC EVO 4G LTE For Sprint Is Full Of Sound And Fury
By Mordechai Osdoby. July 9, 2012, 1:30 PM CDT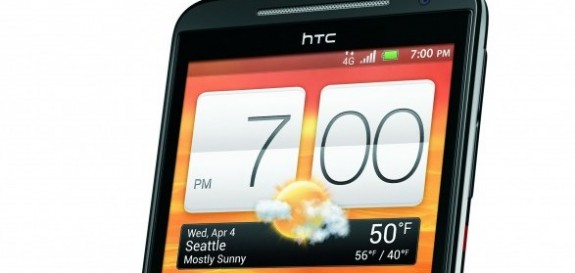 Sprint first introduced its EVO line in 2010 with the classic EVO 4G. This 4.3″, WiMax-connected behemoth did a great job as the company's flagship phone, spinning off the EVO Design, Shift, and 3D, all fine phones in their own way. None, however, seemed to get as much attention as that first model. We at Techcitement were cautiously optimistic when Sprint and HTC unveiled the EVO's successor, the boringly named EVO 4G LTE, back in April. Now that we finally have our hands on one, does reality mesh with fantasy? Read on.
The first thing I noticed on picking up the EVO 4G LTE was how well-designed it was. This is a device that doesn't look high-end, but actually feels like it. The front of the device is a single slab of glass with the HTC logo. Nice and simple. The rear is black plastic on the top and gray metal on the bottom, bisected with a strip of red metal that houses the kickstand. Uniting the glass front and multiple-toned back is an aluminum band along the sides of the device. This band is only interrupted by the MicroUSB on the left, the volume rocker and dedicated camera button (score) on the right, and the headphone jack and power button on the top. The entire package is eye-catching, yet understated. The mix of high-end materials creates a device that also feels great in the hand. My only gripe would be the camera. Even though the actual camera element is recessed and safely protected, the housing bulges out of the back. The metal gives the EVO 4G LTE a little bit of heft to it, but in a manner that's almost comforting. Indeed, despite the rather gargantuan 4.7″ screen, it felt almost perfect in my hand.
Looking at the 4.7″ IPS screen, the word that immediately comes to mind is stunning. While neither AMOLED like Samsung's recent efforts nor up to the exact pixel density of an iPhone's Retina Display (326 pixels per inch versus HTC's 312, even though HTC has another 1.2″ inches to cover over Apple), the EVO 4G LTE has great viewing angles. No matter what angle I take, I can view the screen easily. Nothing is washed out or hard to see. It almost looks like a sticker on the glass half the time. This is insanely impressive. It's also one of the best screens I've used in terms of visibility in direct sunlight, and it also handles glare better than the iPhone or Galaxy S III.
The EVO 4G LTE is impressive under the hood as well. I can't believe such a thing as DualCore processors for cellphones exist — the EVO's runs at 1.5 GHZ. There's 16 GB of internal storage, plus a MicoSD slot and a free 25 GB of Dropbox space. There's also 1 GB of RAM for your apps to run in, and the phone has a Near Field Communications (NFC) chip for Google Wallet and other such uses. The only thing more impressive than that feature-set is the realization that we live in an age where this is not an exceptional set of numbers, but what is expected in a new device. Some might even whine that they expect more from a flagship.
HTC loaded the EVO 4G LTE with Android 4.0.3 (Ice Cream Sandwich or ICS). HTC has unsurprisingly chosen to load its custom skin, HTC Sense, on top. I've been reading for a while now how version 4 of Sense (found on this device as well as the HTC One S and One X) was far less invasive than previous versions. I have to agree. Previously, it felt like HTC didn't trust Android to be user friendly. This time around, the few times things Sense changed from ICS works for me. For example, Google has moved the Widgets selector to the App Drawer with Android 4.0.3. HTC returned this feature to the pop-up from a long press on the home screen. I like consistency. Overall, Sense 4 may be the first Android skin I don't mind living with.
Widgets aren't the only thing Android and HTC conflict over. There's also the small matter of buttons and task switching. Google wants physical buttons to go away. Not only does HTC disagree by including three capacitive buttons, but the left one is dedicated to task switching. Instead of giving the overlay seen on a typical Android 4 device, you get a new view. One can cycle through open program and swipe them away. It feels a bit like HTC added a step here.
Speaking of added steps, can we talk about how much I love the dedicated camera button? A lot of effort was put into the camera on the HTC EVO 4G LTE. The 8 MP shooter in the back is a joy to use, and the ability to record 1080p on a cellphone is actually a tad intimidating. Good thing the phone has 16 GB of storage built in. That said, photos and video are crisp and clear. This is one of the few phones I've used that I can actually see replacing one's digital camera with by actual choice, rather than it being handier. There's also a 1.3 MP front facing camera that does a good job for Skype and whatnot. HTC bundles some special tech called ImageSense with Sense 4, and that's part of what makes the experience so great. The camera app also has a bunch of neat filters and I'm kind of in love with the ability to tap the screen mid video-recording to take a snapshot.
For the audiophiles in the room, Beats Audio comes loaded. Unlike some other phones that use Beats, the EVO 4G LTE lets you use Beats from any audio app. When listening to audio, a Beats logo appears in the notification tray. Swiping down lets you toggle it on and off. I don't have Beats headphones, so am I sound-aware. Enabling Beats did give a bit of a bass-boost with my regular, every day headset.
Having said all that, I now need to point out the one extreme, glaring flaw with this device. While the EVO 4G LTE has the ability to connect to a 4G LTE network, there's none for it to use. Sprint will go live with LTE on July 15th — in only five cities. If you happen to live in Atlanta, Dallas, Houston, Kansas City, or San Antonio, that's awesome for you. If not, owning this phone may be an exercise in frustration. I found I had better connectivity with the Viper 4G LTE, another Sprint phone primed for its not-yet-live high speed. That a budget phone is getting better 3G service is beyond frustrating. A related flaw was heat dissipation. Smartphones do get warm, yes. However, they get hotter the harder they work. I often find this to be the case when using as a GPS navigator. With the phone straining for connectivity, it would sometimes get too hot to hold. This also impacted battery life, severely draining the included 2000mAh battery in no time flat. Think I'm exaggerating? I spent the Fourth of July at my brother's house, a cell reception black hole. I forgot to put the EVO 4G LTE on airplane mode, but I soon remembered it when I felt my pants pocket radiating heat. Family members were shocked at how hot the unit had gotten, while I was distressed at how low the battery had dipped in the short hour that I'd been there. When not straining, the EVO 4G LTE's battery lasted and was satisfying. Straining, however, happened way too frequently. Would the same thing happen once LTE goes live? No idea.
There are a few more quibbles to note with the EVO 4G LTE. Whenever connectivity is dropped, I get a prompt to set date and time even if I had already done so. This is a persistent error that gets very old, very fast. I'm also unable to test some features, like HTC MediaLink (which requires additional hardware or Sprint's new HD Voice service) because that has also yet to roll out. The neat kickstand works in two directions, which is good, as HTC and Sprint chose to move the MicroSD charge port from the bottom of the device to the side, which ends up rendering the EVO 4G LTE kickstand unusable in one position. More annoyingly, when held in landscape, the home page does not re-orient to a landscape view. The original EVO and every other Android handset I can think of does this.
Would I recommend the EVO 4G LTE? Maybe after July 15 (when a rumored white edition is coming in honor of the LTE rollout), assuming one lives in a city blessed with Sprint's 4G LTE. In fact, I'll live in one of those cities fairly soon and I'm strongly considering this phone as my personal daily device. However, if you live anywhere else in the U.S., all of the EVO 4G LTE's amazing physical styling and computing power become useless window dressing on an empty store.

One of the co-founders of Techcitement, Mordechai is a man whose obsession with tech once led his wife to refer to a laptop as "the other woman".