Are you a big fan of Doctor Who? Always felt like you had a little bit of the Doctor inside you? Now there's a chance you might, as someone has created a Doctor Who dildo — the TARDIS Tickler.
The TARDIS Tickler is a bit of do it yourself from The Toymaker Project, a site created by a Ph.D. in robotics "to think about technological empowerment with respect to sexuality, gender and pleasure." And thus, a blue phone box suspended in silicone shaped like a human penis. Specifying human, because the Doctor is Gallifreyan, an alien race with different anatomy, so who knows exactly how different they are.
The TARDIS Tickler is not officially licensed, nor is it currently being sold, but my guess is keep your eyes, photoreceptors, and plunger-shaped sensor thingies peeled to a site like Etsy.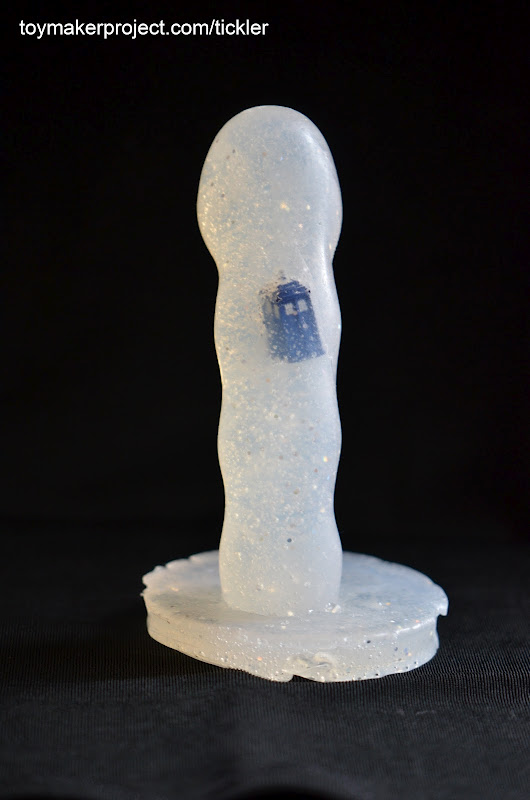 And now, from the home office in Mount Lung, Gallifrey, the top 10 Doctor Who dildo sex puns.
It's bigger on the inside.
Next up — the Dalek buttplug.
K-9 attachment only legal in Sweden and Denmark.
If you just use this, you can avoid getting Tom Baker's cold sores.
Something something something Sonic Screwdriver.
No regeneration limit.
Now we know what put the Torchwood in Captain Jack Harkness.
Dildos are cool.
Time And Relative Dimension In Sex.
Come along, Pond.
I'm both ashamed and proud of thinking of those. If you have any better, list them in the comments.