Kodak's Secret Nuclear Reactor
By Tom Wyrick. May 14, 2012, 3:10 PM CDT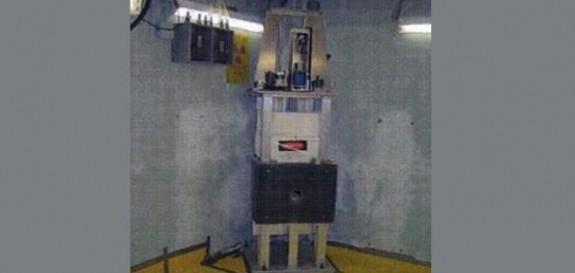 If a company in your town had their own nuclear reactor full of uranium, you'd think it would be under constant guard and well known by residents, right? It turns out the Eastman Kodak company kept just such a reactor a secret for over 30 years in Rochester, New York. Its existence was revealed only a few months ago when a Kodak employee mentioned it to a reporter at the Democrat and Chronicle newspaper. The reactor, about the size of a refrigerator, was installed in Kodak building 82, in a cavity dug beneath the basement floor. Kodak's reactor wasn't an actual power plant. Rather, Kodak used it for neutron imaging and to check various chemicals for impurities. Only key employees had access to the chamber, and tests were normally performed by sending test samples to and from the reactor via pneumatic tubes.
Initially, Kodak developed an interest in neutrons due to their ability to determine the makeup of a material or to create an image of the material without damaging it. Kodak obtained a bit of californium-252, a radioactive isotope that constantly emits neutrons and borrowed small research reactors like one owned by Cornell University. Eventually, the camera and film company wanted a system of their own. So, Kodak obtained a californium neutron flux multiplier (or CFX) in 1974. An article published by company scientists in 1978 claimed the CFX was the first such device ever built for industrial research.
The existence of the device was never truly secret, but company spokesperson Christopher Veronda says he wasn't able to find any record of Kodak making a public announcement about it. Current Rochester city officials claim they were unaware of the reactor, but recent silence was intentional, thanks to government restrictions on details of reactors since the 2001 terrorist attacks. With less than four pounds of uranium in the reactor, it was far from enough to construct a nuclear weapon, but the United States government has worked to eliminate most such caches to prevent a thief from accumulating it from multiple sources over time.
Veronda claims the decision to dismantle the CFX in 2007 had nothing to do with pressure from the government, however. He says it simply wasn't needed any longer, as there were alternative and less expensive means to obtain the analytic results desired. A document on the Nuclear Regulatory Commission's website indicates the uranium eventually wound up at federal facility in South Carolina.
Today, the underground chamber is declared safe for re-use, but remains empty at this time.

Tom Wyrick is network manager for a steel fabrication company by day, and owner of Wyrick Consulting, an on-site PC and Mac service business. He's recently been told he "has more computer power than some 3rd. world countries" at home.