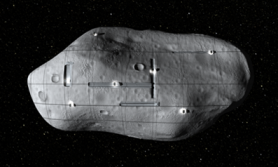 What do director James Cameron, Eric Schmidt and Larry Page (executive chairmen of Google, respectively), and Ross Perot Jr. have in common? They're all going into the space mining business, backing the startup company Planetary Resources.
Planetary Resources hopes to have a private spacecraft operational in less than two years, using it to mine for precious metals in Near-Earth Asteroids (NEAs) soon after that. The company believes it will be able to mine the equivalent of tens of billions of dollars annually — not to mention the potential boon to humanity resource-wise.
"Many of the scarce metals and minerals on Earth are in near-infinite quantities in space," says Peter H. Diamandis, Planetary Resources co-CEO and co-founder. "As access to these materials increases, not only will the cost of everything from microelectronics to energy storage be reduced, but new applications for these abundant elements will result in important and novel applications."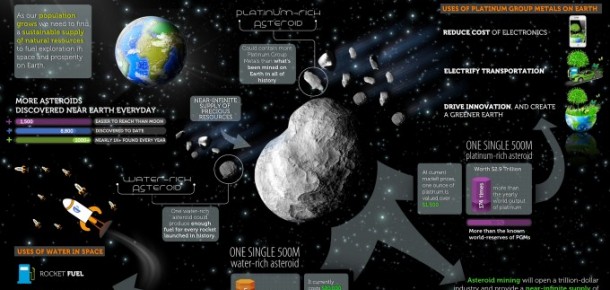 If you need to build new iPods and the Earth's supply of platinum is running low, a 500-meter, platinum-rich asteroid could theoretically contain as much platinum as all the platinum previously mined on Earth, combined. With rare-earth elements such as neodymium and dysprosium in short supply, asteroid mining could alleviate or eliminate supply issues in technology. There is another potential benefit to asteroid mining as well — deep space exploration. Asteroids could be set up with mining facilities and used as way stations for manned spacecraft, resupplying them with water and fuel.
"Water is perhaps the most valuable resource in space," said Eric Anderson, the company's other co-CEO and co-founder. "Accessing a water-rich asteroid will greatly enable the large-scale exploration of the solar system. In addition to supporting life, water will also be separated into oxygen and hydrogen for breathable air and rocket propellant."
Is this the beginning of a new space gold rush?