Google's Employee #20 Is Now CEO Of Yahoo
By Mordechai Osdoby. July 18, 2012, 12:58 PM CDT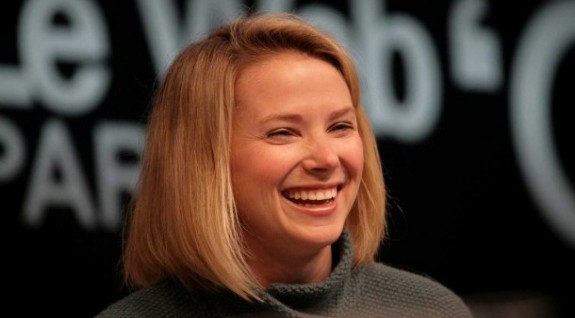 Yahoo, the chosen web portal of the 50+ set (alongside AOL) and once a giant of the industry,  has seen itself marginalized in recent years. While the search engine still generates an insane amount of traffic, the company just announced a second quarter earnings statement that was, at best, passable. Revenues of $1.08 billion fell short of an  expected $1.1 billion and net revenues fell by 4 percent. While stock price has only dipped a nickel so far, Yahoo is a company that simply cannot afford to take it "slow and steady." As users log more time at sites like Facebook and Twitter, they spend more time clicking ads on those sites. Yahoo's revenue depends largely on clicks such as those, and they've gone from having over 15 percent of the online ad market to a mere 9.5; expect them to drop even lower. That's not the only problem the once-leader of the industry is facing. Earlier this year, Yahoo faced more than a little drama over a CEO who padded his resume, and the company found itself directionless.
It looks like Yahoo has decided to address both issues with one solution: Marissa Mayer. Mayer was the first female employee at Google and the twentieth employee to be hired. Over the years, she has been a strong influence on Google's aesthetic, favoring bold colors and clean space. Compared to Yahoo's sensory overload of a website, Google is absolutely spartan.
Many news outlets are choosing to focus on Mayer's gender, with the New York Times even choosing the unfortunate headline "Yahoo Chief's Challenge? Corner Office, New Baby". While the article makes several good points about the role of women in modern business (spoiler: the Times is for it), the article is one that would simply never be written about a male CEO who took a job with a baby on the way. The only way fathers get written about is if they chose to stay home with their kids, something that hasn't been "news" in over 30 years.
Yes, childbirth is a far more immediate concern for a woman than a male, but the strong implication that being a mother would impact Mayer's performance is laughable at best and insulting at worst. A famously organized and efficient  person, it is doubtless that she'll manage her family life with as much aplomb as she has her professional career. We shouldn't even be discussing it.
Interestingly, most are ignoring the age factor here. As I quipped above, Yahoo is the internet for older folks. Most of the company's users are people who started using them when it was #1 in search and never broke the habit. Much like I tease my parents for still having an AOL email address, a  Yahoo account also implies age. Simply put, Yahoo is an uncool, "fuddy-duddy' of a company. At 37, Mayer is a huge breath of fresh air. Like many in my age range, she grew up with the internet revolution and understands the average modern user far better than a 53-year-old Scott Thompson did. Indeed, in her role at Google, Mayer was an integral part of the Internet 2.0 revolution, making it more than just a tool for when you're at the computer, but an all-pervasive part of our lives. As Mayer said to CNN back in April:
I'm not a woman at Google, I'm a geek at Google. If you can find something that you're really passionate about, whether you're a man or a woman comes a lot less into play. Passion is a gender-neutralizing force.
Passion is not a word many would use in tandem with Yahoo, and something the company has a dire need for. As a passionate techie with strong executive experience, Marissa Mayer may be the ideal person to rebrand Yahoo as more than the butt of "Google vs Yahoo" jokes.
While Mayer is right when she says the board of Yahoo "showed their evolved thinking" by hiring a pregnant person, the fact is that Mayer is a far more exciting hire for her abilities and her age than the status of her ovaries. I long for the day when everyone is evolved enough to realize that.

One of the co-founders of Techcitement, Mordechai is a man whose obsession with tech once led his wife to refer to a laptop as "the other woman".