Do you like technology? Do you like celebrities and pseudo-celebrities selling out so electronics manufacturers can leverage some of their popularity? Then you are going to love 2012 International CES, where the stars are shining bright!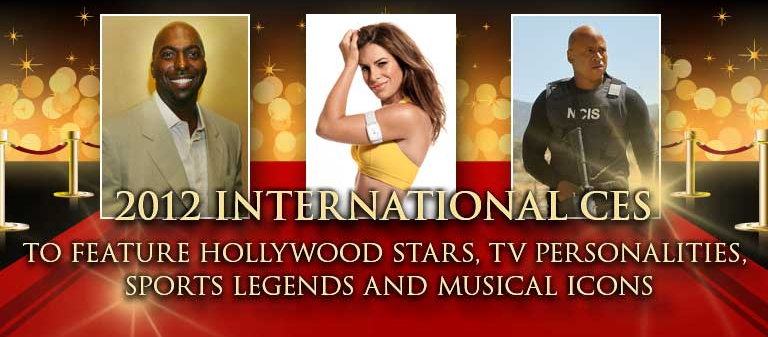 Seriously though, the list of celebrities showing up for the trade show is relatively long.
True Lies star Eliza Dushku is headlining the Entertainment Matters  program as its ambassador. Fill in joke here about "Eliza Dushku" and "entertaining."
Scary yelling fitness lady Jillian Michaels will highlight the merging of fitness and technology.
50 Cent has a new audio company, SMS Audio, and will sign autographs.
Justin Bieber is going to unveil TOSY Robotics's new robot. Maybe Bieber will finally reveal that he is a robot himself.
Dennis Rodman, of all people, is going to talk about webcam applications. As Third Rock from the Sun told us, Dennis Rodman is an alien, not a robot. Michael Jordan is a robot.
Haier America is sponsoring celebrity chef Allison Fishman and, as they put it, NBA legends Robert Horry and John Salley. Granted, they both have some championship rings, but they're more the guys who supported the legends. As far as mythology goes, they're more demi-gods.
LL Cool J will demo a track he created using new technology from Boomdizzle. Don't call it a comeback, though. He's been here for years. Rockin' his peeps, puttin' suckas in fears.
OnStar is sponsoring Wayne Brady and Greg Grunberg. Maybe they can use OnStar to find their careers? ZING! Random fact: the voice of OnStar is Mary McDonald-Lewis, who was also the voice of Lady Jaye on G.I. Joe.
iHip is making Snooki-branded headphones. That means Snooki will be at CES. As a complete non-sequitur, I wonder if CES will have antibacterial hand sanitizer dispensers on the floor this year.
The Director's Panel is focusing on the 50th anniversary of James Bond with a ton of Bond directors — John Glen (For Your Eyes Only, Octopussy, A View to a Kill, The Living Daylights, and License to Kill), Martin Campbell (GoldenEye and Casino Royale) and Michael Apted (The World Is Not Enough). Bond girls Olga Kurylenko (Quantum of Solace) and Caterina Murino (Casino Royale) will be there as well. This one is actually pretty damn cool.
The band Chicago is going to perform at the behest of Monster, Inc., the job search engine and not the Pixar film.
Model Jamie Michelle will show up for car audio company Powerbass. Because nothing says car audio like boobies.
Alistair Overeem, the top contender for the UFC Heavyweight Championship, is going to play MMA fighting games against Qualcomm executives and media. Overeem beat the snot out of Brock Lesnar so bad that he didn't just beat him, he retired him. Overeem can do whatever the hell he wants. No snarky jokes about him. The dance crew Jabbawockeez will also show up for Qualcomm, but just in case Overeem is feeling company loyalty, again, no snarky jokes.