Bethesda Softworks Artist Dead At 43
By Tom Wyrick. February 20, 2012, 4:20 PM CDT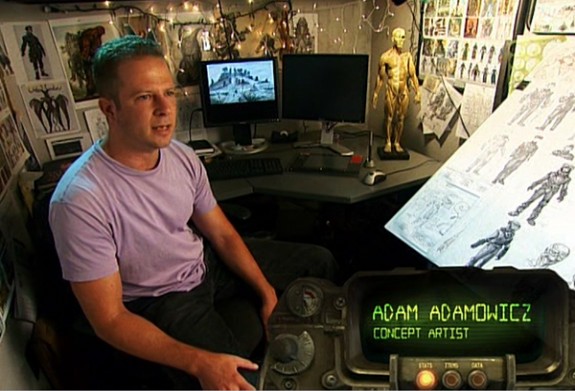 Concept artist Adam Adamowicz, best known for his elaborate digital landscapes and colorful characters in Fallout 3 and Elder Scrolls: Skyrim, passed away on February 9 in a Washington hospital. His death, at age 43, was the result of a battle with lung cancer. Adamowicz studied oil painting, figure drawing, and palette mixing at the Boulder Academy of Fine Arts from 2002 through 2003. He then worked as a freelance illustrator for Malibu Graphics and Dark Horse Comics before accepting a position with Bethesda in 2005.
His online diary on Bethesda's website gives plenty of insight into Adamowicz's thought processes as he developed the virtual weapons, creatures, and landscapes for Fallout 3. About his challenge coming up with homemade weapons that looked believably functional, he said, "To solve this design quandary I tapped my inner 6 year old. The inner six year old who saw a parents' garage and its contents as a potential chemistry set. When I started laughing my ass off, I knew I was on to something! All those years of building slingshots, and melting plastic airplane models have apparently paid off."
Unlike many of his contemporaries, Adamowicz did the bulk of his artwork with traditional, non-digital media. His art pitch is shown on the making-of DVD video included with Fallout 3′s initial release, and his hand-drawn work is shown covering every inch of his workspace.
The game industry truly lost one of their greats with his passing.

Tom Wyrick is network manager for a steel fabrication company by day, and owner of Wyrick Consulting, an on-site PC and Mac service business. He's recently been told he "has more computer power than some 3rd. world countries" at home.