Pac-Man, Face Stabbing, And No Physics
By Benjamin Wilbur. January 16, 2013, 1:46 PM CDT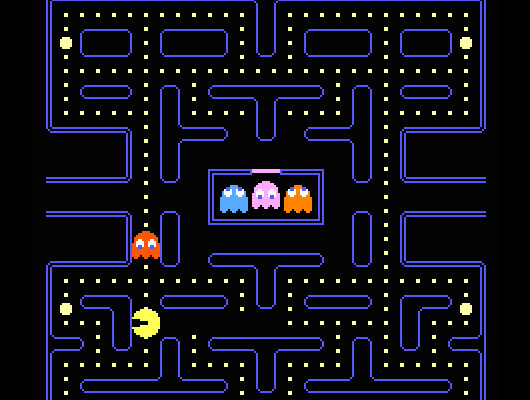 Stabyourself.net released Not Pacman, a free recreation of Pac-Man without physics. I know, I know. Where are the physics in Pac-Man to begin with? Hidden in plain sight and glaringly obvious when there aren't any.
What makes the game so addictive, and not just a rehash, are the new controls. You control the game with either a mouse, keyboard, steering wheel, or joy stick, and the level itself rotates, jostling and moving the characters housed within the level. Power pellets are still in the game, but they don't make it much easier. Controlling the ghosts and Pacman proves extraordinarily hectic. Remember that for every move you make with your yellow champion, three ghosts make theirs. It's important to calmly observe the safest path, but the ghosts can clump up in a corridor while Pacman has free reign until the screen rotates enough to force them free.
The game is free to download here, and boasts one of the handiest "advanced multi-data scoring system optimized for professional competitive gaming events." That's right, you and your friends can compare high scores! 


Benjamin Wilbur is a dungeon master, writer, and gamer living in Arlington, Texas. He has two cats, one girlfriend, and a whelming wit.