SnApp Judgments: Night of the Living Dead Defense
By Jeremy Goldstone. December 3, 2011, 3:03 AM CST
Every night at 12:15 AM Pacific, Amazon gives away a free paid app through their Amazon app store. As I am usually awake at 12:15 AM Pacific, why not let you know if today's app is useful, or just more clutter in your app drawer?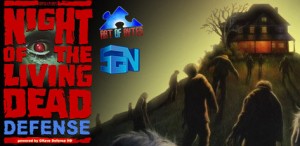 Today's free app is Night of the Living Dead Defense by SGN, which usually goes for $1.99. It's yet another tower defense game. In fact, have you played GRave Defense? If so, then you've basically played Night of the Living Dead Defense. Not as in it ripped off the game, but it's a skin of GRave Defense, with a loop from the soundtrack playing as background music, and the three samples of "Look, here comes one of them now," "They're coming for you," and the ever classic "They're coming to get you Barbara!" Sadly, the audio gets rather tiresome after a few minutes. Otherwise, it's more levels of GRave Defense. Could be worse.

Jeremy Goldstone is an experienced tech writer, having been both journalist and PR flack for consumer electronics. He also invented the two-man video game podcast. For reals. Look it up.