Geeks In Space: Rooster Teeth's Matt Hullum On Red Vs Blue Season 10
By Ben Masten. July 24, 2012, 9:00 AM CDT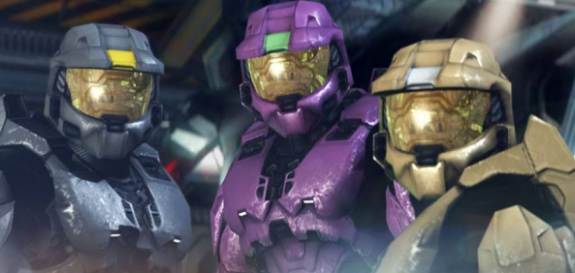 The internet geek-comedy collective Rooster Teeth is that rarest of online animals: a group with a history longer than 18 months or so. Rooster Teeth's ongoing series, Red Vs Blue, set (sort of, but not exactly) in the universe of Microsoft's Halo franchise and animated (mostly) as Machinima within the Xbox games themselves, is well into its tenth season on RoosterTeeth.com. The show, by now a touchstone of gamer culture, chronicles the misadventures of the universe's most inept group of space marines.
While the show has goofy moments aplenty, they belie a surprisingly deep, intricate sci-fi plot rife with secret histories, death and resurrection, and even some speculation on the nature of artificial consciousness. In fact, the series has landed America's hobbit-in-chief, Elijah Wood, to lend his voice to an enigmatic A.I. construct with ties to the show's mysterious military training program, Project Freelancer.
Techcitement recently caught up with Rooster Teeth co-founder and RvB writer Matt Hullum to talk about the strengths and weaknesses of Machinima, what it's like to build a universe, and their planned tenth anniversary boxed set, due for release on DVD and Blu-ray this fall.
TECHCITEMENT: So this is gonna sound like a very softball question off the top here…
MATT HULLUM: Just the kind I like. Please, all softball questions.
TC: Is it weird to think of Red vs Blue as having lasted 10 years?
MH: It's really weird.
TC: I mean, I remember when Halo was first announced for the Mac years and years ago…
MH: Yeah, at the Macworld convention. You know what's funny? We talked about this a little during RTX [the annual Rooster Teeth Expo, in Austin, TX]. The first time that Gus [Sorola] and Geoff [Ramsey] and Burnie [Burns] and I — the first time we all hung out together as a group — and I think maybe Joel [Heyman] was there too — was at E3 in 2000 or 2001 when they had Halo on the floor, that was one of the first times we hung out together. And there's a picture that somebody actually snapped of us waiting in line to play Halo, and we had no idea that our love and fascination with Halo was going to take us on this 10-, 11-year journey together. I barely knew Gus and Geoff at the time and the idea that I would spend so many of my waking hours with them… [laughs] Yeah, it's been crazy.
TC: You can tell the advances in Xbox graphics and horsepower, and the graphical flash of the game itself have been good to you guys over the years, and technically the execution of show has really changed a lot. You're doing these big elaborate action sequences now in seasons nine and ten… Did you guys start to feel after a while of working with the straight Machinima technique the limits of that process?
MH: Well, possibly. I don't know if I would say it was the limits, but more that once Halo 3, especially, came out with theater mode, that opened up a lot of possibilities to do new things just within the machinima context. And from there you just start thinking, "Well, what else could we do if we had full control over the animation?" And these kinds of ideas just tend to spiral and take on a life of their own.
At some point around season five, between season five and season six when we moved over to Halo 3, we also had been experimenting with doing a Red vs Blue cartoon, we made a traditionally animated cartoon. It was a really fun piece and we had a great time doing it. And that kind of gave us the bug for wanting to do more interesting and diverse and complex animation as well. And then we met Monty Oum, who had made his own Halo animation which was very popular online called Haloid. We had him doing animated stuff at the very end of season seven.
And then season eight is where it really flourished and exploded in terms of all the animated stuff we've been doing. So it's been a natural evolution for us, and we've just enjoyed being able to stretch our wings as much as we can and being able to do different things. But our love for the game, and our love for Machinima as a storytelling tool has not diminished at all.
TC: It's really more about just enhancing the number of tools at your disposal. You're sticking with Machinima, but adapting whatever tools you need to tell the stories you want to tell.
MH: Yeah, exactly. It's not a case of "one is better." It's more a case of "these are different ways of telling a story." They do different things, they produce different results, and we want to incorporate more opportunities to express ourselves and express the story, in whatever format we feel is appropriate.
Machinima is great for a ton of stuff. We love doing machinima and we'll never stop doing that. And the animation is great at certain times for certain parts of the story, and we're having a great time with that as well. And of course outside of Red vs Blue, we do plenty of live action stuff. So, we're agnostic, basically, about how the story gets told. We just want to do what's appropriate for the material.
TC: On the subject of the material itself, the show has always had this balance between the reasonably goofball stuff — you have Caboose running around, for example, who's basically like Homestar Runner or Brak in Spartan amor — but also, over the years the series has become this intricate space opera with elaborate continuity. How much of that was planned from the start and how much of it just naturally evolved?
MH: Well, we had a pretty good vision in the beginning for what the entire overview of the world would be. Of course, you can never have every single little detail painted out from the very beginning. But we had a pretty good feeling for what the overall universe — the Red vs Blue world would be. And we've talked about the freelancers and the A.I. from the very beginning — from season one — and been telling, really, the prequel story of Blood Gulch and how Red vs Blue originated. So, it was thought out a lot, if not planned out specifically, if that makes sense.
TC: You sort of had the broad strokes.
MH: Yeah. And then… as you go along with such a long series that we have — it's crazy to think, but we just had Elijah Wood as one of the stars of this season, and we were talking about how crazy it is that there's actually more Red vs Blue content than there is in Lord of the Rings.
TC:  [Laughs] Wow.
MH:  It's a longer series than Lord of the Rings at this point, which is crazy! But when you run for that long, I do think you tend to go off on different avenues that you find interesting. 'Cause there's so many stories to tell. There's a lot of stories that we've alluded to that have taken place that we haven't had a chance to tell yet. And maybe we will at some point in the future. What we're trying to do this year, we've [already] established the "Project: Freelancer" prequel storyline, and we wanted to see that storyline culminate in a big way in season 10.
TC: Without giving away anything that you don't want to, have you structured the show so that season 10 will wrap up a bunch of threads and then be a nice natural chapter break in the series?
MH: I guess that depends on your perspective. [Laughs] And on what information you're hoping to get out it. But yes. For us, this wraps up the portion of the storyline that we began in season nine, and with that, a lot of questions are answered about the overall series, going back to season one. So, we're definitely striving to fulfill everyone's desire to have more information about the origins of the story, and really dig deep into the characters and the plot.
TC: I assume it's important that we haven't seen the top half of the Director of Project: Freelancer's face at this point.
MH: Yeah, no spoilers on that. We'll let that play out.
TC: Fair enough. As far as Elijah Wood's involvement this season goes, how did that come together?
MH: We're basically friends of friends. I had worked with him once a really long time ago on The Faculty, which is a Robert Rodriguez movie.
TC: Oh yeah! With Jon Stewart?
MH: Jon Stewart! Yeah, my first day on the job actually was wrangling Jon Stewart's fake fingers, these prosthetic fingers that get cut off in one scene. I was in the visual effects department and I was carrying around his plastic fingers.
So, I had met and worked with Elijah briefly on that and hadn't seen him in a long time. And then we found out we had some mutual friends in Austin. So we invited him over to the studio at one point. He came by, we had a great time chatting and just showing him stuff we'd been working on, and everybody got along really well.
And then, I think it was a couple months after that I thought, "You know, we should see if he'd be interested [in working on RvB]." And he was really excited about doing it, and he just did a fantastic job.
TC: Have you tailored the character of the A.I., Sigma, to Elijah? Or is the plan the same as it always was, no matter who was going to voice him?
MH: Well, we have to a degree. I mean, I think you do that with any actor that you're working with as you see what they bring to the role. That's a natural part of the process. For Sigma, he's such an interesting character, and he's such an instigator of everything that happens with the overall storyline of "Project: Freelancer," both directly and indirectly. We wanted someone who could convey a lot of intelligence and creativity for the character, and not just just a sinister quality. There has to be a depth there. A thought process and a bigger agenda. And Elijah got that instantaneously. And he just brought out more than what was on the page originally. As we were working with him, we definitely tailored a few lines for him to play to those strengths that he was bringing out.
TC: To commemorate the tenth anniversary of the show, you have a boxed set of seasons one through ten coming out in October, as well as the DVD and Blu-ray of the tenth season. What kind of things do you guys like to throw in to give the fans a bang for their buck? Because so much of the content is available for free already on the Rooster Teeth site.
MH: We take the DVDs very seriously. It's really one of our biggest points of pride at Rooster Teeth, how much work and effort we put into the DVDs. Every DVD that we've ever made has a minimum of thirty to forty-five minutes of extra content that's not available online or anywhere else. And in the last several years, we've certainly turned it up even further. With season nine, there was a ton of bonus content on that, and with season ten we're going to be doing the same thing.
On our RvBX boxed set, we've also got four additional discs of bonus content. So, fans will be able to see a big variety of things, from Red vs Blue mini series that we haven't released online, to behind the scenes footage, outtakes, interviews with the cast — and a lot of our production process. How we make the show, and the trials and tribulations of getting an episode out every week.
We really try hard to pack our DVDs as full as we possibly can. I don't think we ever put out a DVD where we didn't actually hit the maximum amount of content we could actually fit on the disc.
Red vs Blue season ten, and the RvBX tenth anniversary boxed set are available for pre-order from Rooster Teeth now and are scheduled to ship November 6. Keep an eye out for Techcitement's reviews of the discs and more coverage of the release!

Ben Masten is a writer and comedian in Austin, TX.