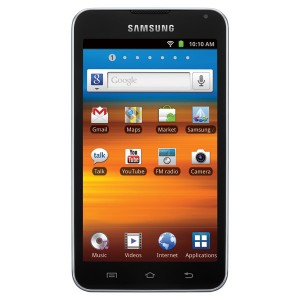 Electronics giant Samsung keeps pumping out devices. This time we're looking at the Samsung Galaxy Player. As you might guess from the name, the Galaxy Player is not actually a phone. Instead, it's a personal media player (PMP).
Why would you want a separate dedicated PMP when odds are you already have a smartphone, you ask? A darn good question, and one I was asking myself. The first reason someone may want this device is simply because not everyone has a smartphone. Or you might be locked into contract and not want to upgrade. A PMP allows you the full Android experience without giving up your current phone or plunking down big money on a tablet. I'm still using my Palm Pre on Sprint and am just not ready to give it up.
The other reasons you might want a device like the Galaxy Player become apparent as we delve deeper into the device. Galaxy Player comes in two screen size, 4″ and 5″. We were sent the 5″ model, appropriately enough called the Samsung Galaxy Player 5.0.  A 5″ screen sounds huge at first, but it was actually surprisingly easy to use one-handed. In fact, I found it to be an almost perfect mini-tablet. I wouldn't attempt to read comics on a device this size, but all my other regular tablet needs were met quite well by the Galaxy Player. The larger size made text input easier for me than other, smaller touch input interfaces I have tried. In fact, I'd go so far as to say that the 5.0's size helped me have the best Android experience to date.
With that said, I also need to note that for some annoying reason, this 5″ screen is not SuperAMOLED or even AMOLED, but a plain old WVGA TFT screen. If you've never used an AMOLED screen, you won't be bothered. However, it feels like an annoying step back if you have. This is especially true when you keep in mind that the most well-known PMP, the Apple iPod Touch, ships with Apple's high-resolution Retina Display. It would've been nice to see the Galaxy Player offer as strong a showing in that area.
One thing the Galaxy Player has that the iPod Touch doesn't is built-in GPS. This is always a treat on non-phone devices and is a great selling point for someone who is on a carrier that insists on charging for GPS services. Google Navigation works fine (assuming you've a hotspot in your car), as do other location-based services. The 1 Ghz chip inside renders Google Earth nicely. The Player also has the advantage over the iPod Touch in that it plays a whole lot more audio and video formats, including MP3, WMA, Ogg, FLAC, WAV, AAC, DivX, XviD, MPEG4, WMV, and H.624.  That's pretty impressive for a built-in player. Normally, I have to download the just-updated DoubleTwist to get that kind of support. In a final raspberry to Apple's offerings, the Galaxy Player also has a MicroSD slot along the top. This means you're not limited to the  built-in 8 GB of storage.
The player does exactly what it says on the tin it comes in too. Files play wonderfully, sound is crisp and sharp, and the video player has a 5.1 surround emulator setting that makes things pop when using headphones. I have some MKV files that play choppily on my admittedly-older-model MacBook and are unwatchable on my iPad (via VLC). They ran smooth as silk on the Galaxy Player. Even streaming video on YouTube and audio on Pandora looked and sounded great. Oh, and there's an FM Radio app that works fine (as long as the headphones are in). The app works well, is a good option if you're out of Wi-Fi range, and are bored of your loaded files. The built-in speakers are better than most phone speakers. While the bundled headphones may not be the most amazing ever, they're definitely better than the bundled iPod earbuds. My only gripe about the headphones is that the jack is on the bottom of the device instead of the top, but that's a personal thing.
Note that the Player  runs Android 2.3.5 (Gingerbread) and does so with a TouchWiz skin. I'm still not the biggest fan of TouchWiz. One of my biggest gripes with this device is that the apps aren't in any sort of alphabetical order. This makes searching for apps annoying. I was unable to find a setting that changes this. Other than that, it's a pretty standard Android Device, with full access to the Android Market. Samsung has bundled a few extra apps in, like their media streaming Allshare and their SocialHub widget, but nothing earth-shattering.
The Player also has a front and rear camera, but those are almost afterthoughts, with the front as VGA and the back a mere 3.2 MP. This is a device that can replace your dedicated GPS, Media Player, and web browsing device, but don't expect it to replace your camcorder. Then again, there are few phones or PMPs that you could say that about. Frankly, if you're in the market for a phone-less PMP, this may be the almost-perfect device for you. Even with an anemic camera and a screen that isn't bleeding edge, it beats out the industry leader on features. That's a pretty big deal.