Giveaway Winners Announced For InTune Headphones!
By Justin Davis. August 22, 2011, 5:03 PM CDT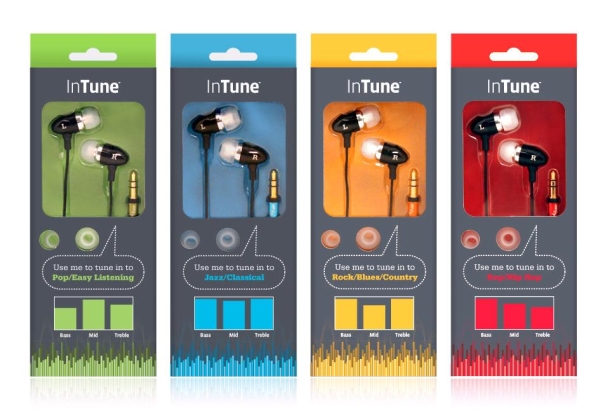 All last week, Techcitement ran a special giveaway for the four best comments on our site or our Facebook page. The four winners would each receive a set of InTune earbuds valued at $25. Today, we announced those winners. They are:
David's comment from the review itself with his deeper explanation of the headphones' equalizer settings.
These different models of headphones have slightly different frequency response, as you can see on the InTune web site. Rap/Hip Hop has more bass. Pop/Easy Listening has a mid boost, and the others are more flat. They could have just as easily given names to these models that reflected that instead of which music they supposedly go with. So think of it as picking what sort of sound shaping you like, which may or may not correlate with what type of music you like listening to, and then get the model that matches that. Maybe you are the kind of person who chooses different EQ settings for each type of music. In that case, get one of the flatter models and an MP3 player with EQ.
Ra'ananInAlbany's comment on our post-mortem review of the TouchPad.
Now that I have a dock, keyboard dock, and bluetooth keyboard, I can sit and type away for hours. Edit text, crunch numbers, move some important files to iCloud, and be completely mobile. I update mileage, expenses, etc., for all my contract work. Being able to do that on the road in small bits here and there in between calls saves me the 90 minutes every day each night once I'm home.
Carla's comment on our article about Fluke's new WiFi detector gadget for police and the possible ramifications of it.
This seems to be bordering on Guilty until Proven Innocent. I believe our motto is Innocent until Proven Guilty. I abhor children pornography. But here's the condition, cops aren't trained on real network monitoring. A tool is like the idea of script kiddies. You think you are all "skilled" and suddenly you find out you didn't know what you were doing.
Finally, we have a pair for Phil's comment, that he posted on the site and on our Facebook page, in response to our PETA Goes XXX article.
They're REALLY pushing the envelope with the whole "I'd rather be naked" thing…
Congratulations, everyone! You'll all be contacted soon with more details.
Keep on the lookout for more giveaways and contests, and keep posting comments.

Justin Davis is one of the co-founders of Techcitement and acts as the editor-in-chief for the site, which is ironic because he's likely the least tech savvy/aware person here. He also wrote a monthly restaurant review column for The A.V. Club Austin from 2010 to 2011, and he regularly performs in and directs improv theater. That means he's ready for anything. Yes, even that.