Review: Huawei Activa 4G, A Reminder Of What Used To Be
By Reuven Shechter. July 12, 2012, 9:50 AM CDT

MetroPCS has a great agenda: affordable smartphones that don't require a contract. Unfortunately, driving a phone down to $149 or $199 without subsidy often requires manufacturers to make cutbacks, especially to fit in LTE (complete with metroPCS's fledgling coverage). Huawei did this maneuver with the Activa 4G
I've been testing the last few weeks.
This phone hearkens back to the earlier days of Android with 3.5 inch HVGA display, 800 mHz single core processor, and a now-ancient build of Android, with Gingerbread (2.3). Activa 4G's screen leaves much to be desired, especially coming off of my spacious and pixel-rich Super AMOLED 720p display on my Galaxy Nexus. Images and text are pixelated, the keyboard is cramped and tiny, and the colors seem dull and washed out. As for the processor, Android 2.3 sort of hums along, moving at its own pace, not really lagging, but taking its slow time to do everything.
Physically, the phone feels bigger in every way than it needs to be. There is a needless huge bezel, especially at the bottom of the phone, and the Activa 4G has a monstrous girth (0.42 inches) by today's standards. Coupled with an extremely plastic feel, the Activa 4G certainly won't win any beauty contests.
Camera-wise, the Activa 4G has a 5 megapixel shooter in the back and a VGA cam up front for video chats. Neither leave much impression and photos appear dull and washed out, but they aren't terrible in a pinch. Video-chatting also works, but seems choppy regardless of connection.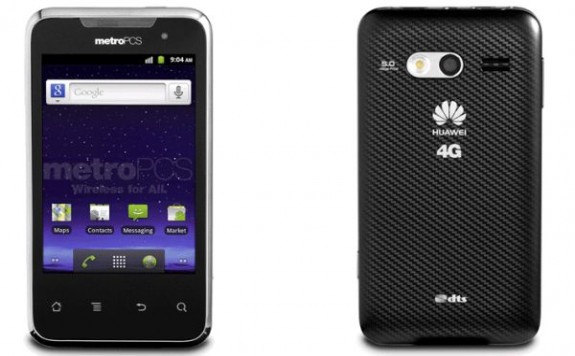 Now that Google has released Android 4.1 (Jellybean) along with Project Butter to eliminate lag in Android, even in a budget smartphone like this, Gingerbread is unforgivable. Not only does this put the average user behind the curve because only a bit more than 10 percent of Android users are now Ice Cream Sandwich, but certain apps require newer and more powerful versions of Android. Huawei should have slapped on stock Ice Cream Sandwich and been done with it, as I doubt this phone will see many, if any at all, software updates.
Regardless of my qualms with using Android 2.3, the Activa 4G isn't that unpleasant to use, if you're coming from a plain feature phone. MetroPCS doesn't have an abominable amount of bloatware, and the apps download easily and work well on the phone. There is little to no customization on Huawei's part. The essentially stock Gingerbread is great for a new smartphone user or a first Android experience.
While MetroPCS does have coverage in the areas I tested the phone in (Washington D.C. metro area and Northern New Jersey), the Activa 4G has trouble holding onto an LTE signal and isn't fast at that, managing max download speeds of around 3 mbps and around 2 mbps upload. While this certainly would be acceptable for 3G, it's frankly pathetic compared to AT&T and Verizon's LTEE. Even T-Mobile's "4G" HSPA+ fares better. If you're going to tout 4G in the name of the phone, it should work like 4G (although Sprint has the same problem considering its LTE network isn't up at the time of this post).
Overall, the experience of using the Huawei Activa 4G
is frustrating for me, but I don't believe I am MetroPCS's or Huawei's intended customer. Priced extremely competitively at $149 after rebate, this is a great buy for a teenager or anyone's first smartphone without the dreaded two-year contract signed with the devil. Plus, at $50 a month for unlimited calls and texts, with 2.5 GB of data at LTE speeds (they throttle after that), the Activa 4G won't burn through your money the way top shelf smartphones can. Huawei has a decent offering here, but I'm even more curious for when it brings higher-end smartphones into an affordable contract-free carrier. Though not with the Activa 4G, Huawei could soon break into the U.S. market in a big way and I'm bringing the popcorn to watch.

Reuven hails from West Orange, NJ and is an avid tech enthusiast, especially the latest mobile phones and tablets. He currently attends Washington University in St. Louis, studying English literature and whatever else suits his fancy..