Apple Gets Samsung's Galaxy Tab Pulled Off U.S. Shelves
By Mordechai Osdoby. June 28, 2012, 2:18 PM CDT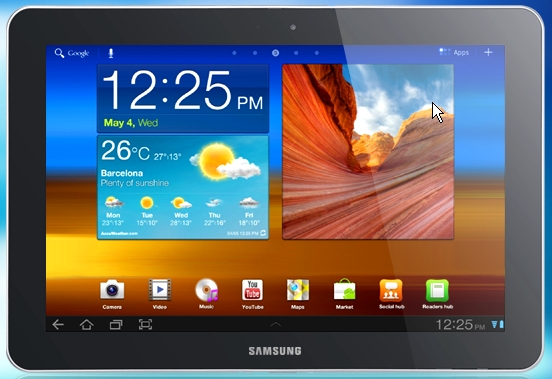 Apple's been doing well in the lawsuit department lately. Sure, Apple's patent case against Motorola was thrown out of court, but the company that Jobs built managed to seriously delay HTC's recent hot phones earlier this month. Now, it's  struck a major blow against Samsung. A federal judge in California has ruled that the Galaxy Tab Android tablet is "virtually indistinguishable" from Apple's iPad.
Considering that Samsung shelved an unreleased version of the Tab to recast the product to better compete with the iPad, this is not a shocking revelation. Indeed, Samsung has allegedly commented that it's unconcerned because the company has other tablet products. It also probably helps that the Tab is sort of old news. Regardless of Samsung's mellowness, this is a major win for Apple. This federal decision could potentially be used to go after myriad other 10″ tablets. After all, there are only so many design metaphors that can be used.
---
[Win 10 GB of cloud storage from SugarSync just by liking Techcitement on Facebook and commenting on articles there!]

One of the co-founders of Techcitement, Mordechai is a man whose obsession with tech once led his wife to refer to a laptop as "the other woman".