Death of WebOS Devices Sends Flood Of Developers To Microsoft
By Mordechai Osdoby. August 22, 2011, 7:01 AM CDT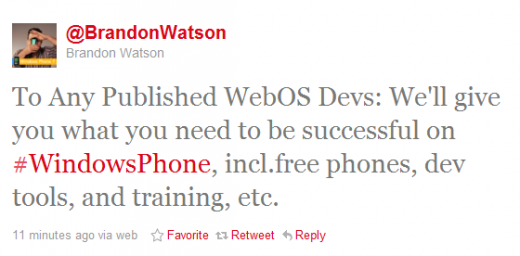 On Thursday I joked about making Windows Phone 7 my post-WebOS platform. It seems I wasn't the only person who had that thought. Microsoft's Brandon Watson, who has been getting attention by sending free phones to people like Molly Wood and Scott Adams, tweeted an offer to give free phones and training to published WebOS devs. This is a brilliant idea. WebOS developers have shown themselves to be creative and inventive, adding features to the device that HP left out. Windows Phone 7 can use the apps, and the developers can really help the platform.
I don't think Mr. Watson was expecting this kind of response though. Over 500 developers have written to Microsoft, wanting in. This may bode ill for those who took advantage of this weekend's Touchpad fire sales, but it bodes really well for future Windows Phone 7 users.

One of the co-founders of Techcitement, Mordechai is a man whose obsession with tech once led his wife to refer to a laptop as "the other woman".