There's an official native Gmail app for iOS! What's that? It came out already? And they pulled it down after less than a day because it was so buggy? Oh, well, it's available again! But only in the US app store.
This time, it seems to be working correctly and it's pretty slick. However, it's still missing a few key features. And when I say "key features," I mean "reasons I use Gmail."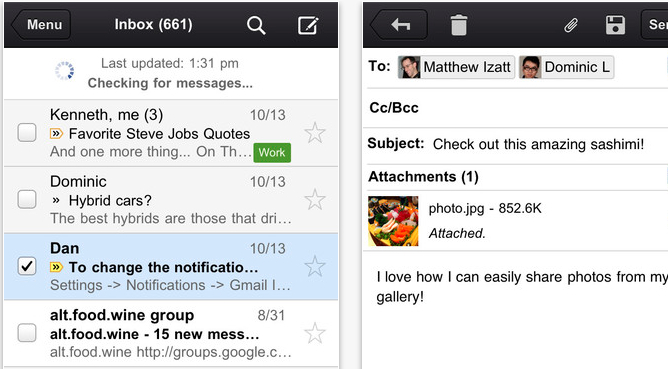 Multiple account support, real push notifications (i.e. a simple text popup), and using your customized signatures remain absent. But the priority inbox is here; a huge plus for me, as well as starring, labeling, archiving, and a completely reworked HTML image control. And there are sound/vibrate options if you count those as push notifications (I don't). One caveat: if you did snag the native app when it first launched a few weeks ago, uninstall it first and then install this new release.
The app still isn't perfect, which Google knows, but for the first time in my mobile life, my email app does really feel like my email. Besides, if Google doesn't polish these issues (already fixed in it's mobile web version), there's always Sparrow.