Techcitement Hands-on: Infinite Comics Pack A Digital Punch
By Jeremy Goldstone. March 21, 2012, 12:27 PM CDT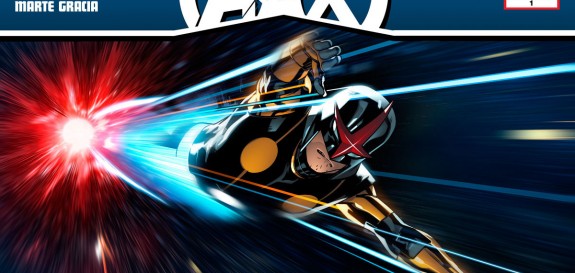 Marvel Comics announced they were making some changes to their digital initiative last week, introducing a new type of online comic format they're calling Infinite Comics. This past weekend, I attended WonderCon in Anaheim and checked out the first Infinite Comics story, a new Nova story from writer Mark Waid and penciller Stuart Immonen. Somehow, the format managed to simultaneously exceed and fail to meet my expectations — although the failure itself isn't necessarily a bad thing.
Infinite Comics has been described as falling somewhere in between regular digital comics — comics scanned into digital form — and motion comics, which are closer to those crappy 1960s Marvel cartoons where the animators would just cut up Jack Kirby's artwork and move it in front of a camera. A more apt description is that they are digital comics, but written and drawn expressly for the digital format, using the advantages in pacing that not being printed on paper can provide. Think of it as a comic book where you can't accidentally spoil the book by accidentally reading the panels out of order, or skipping ahead in the book.

If you want a slightly lower-tech preview of Infinite Comics, check out Waid and Jeremy Rock's zombie story, Luther, available as a free PDF on Waid's website. The Nova comic is similar to Luther, except the format is a little more self-contained, relying less on the whims of whatever PDF reader you happen to be using. But the key elements — the landscape format as opposed to portrait, the slow reveal of panels and caption/dialogue — are all basically the same. None of this is revolutionary technology. This could have been done years ago and for all I know, was. From that aspect, it's a little disappointing. From all the hype, it was easy to expect something a little more grandiose tech-wise.
Instead, this was more about figuring out how to write and draw comics for a digital landscape. Not create comics, then digitize them; not create poorly animated movies using comic book stories as a basis; but actually creating sequential artwork stories for a digital medium, without being beholden to how it would have worked on paper.
At the same time, these books aren't going to translate very well to paper. At least, not the way Waid, Immonen, and Rock create their stories. Sure, they could just print out the PDF, but it's something akin to watching Lawrence of Arabia in pan and scan on a 10″ CRT TV or trying to absorb the wonder of sculpture from a photograph of Michelangelo's David. These are medium-specific comics, meant to be read on a digital platform where images can be replaced in an instant.
If you were expecting some giant technological leap, you may be in for a disappointment. If you're open to a new way to ingest something closer to a traditional comic book, but created more specifically for the digital medium, you should be very, very happy.

Jeremy Goldstone is an experienced tech writer, having been both journalist and PR flack for consumer electronics. He also invented the two-man video game podcast. For reals. Look it up.