We all know tablets are huge these days. Everyone wants to third screen in, but the big barrier is, as always, the cost. Sure, tablets aren't that expensive. Even if you can't afford a $500 iPad, a $200 Kindle Fire is usually within reach. But that's not the only cost customers are facing. Unfortunately, the tablet revolution is coming right in the middle of the rise of the smartphone. Consumers who used to get a free phone with their contract are shelling out $200 — $300 for a high-end smartphone. Add in a tablet and we're spending $400 — $800 or more on mobile tech before we even get to things like accessories, not to mention the laptops most of us still need. These are all expenses that didn't exist for most of us as recently as five years ago.
Enter Samsung's Galaxy Note.
The Note might be the biggest phone on the market. Or it might be one of the smallest tablets to date, coming in just slightly larger than the Dell Streak at 5.3". Whatever you want to call it, this is one of the first devices that can fill both roles, to some degree.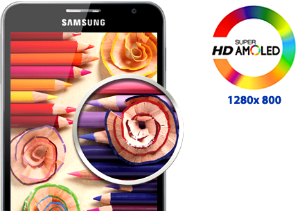 A beautiful looking device, the Note's huge screen is somewhat offset by the phone's impressive thinness. The front face of the device is slightly raised up from the rest of the body, so you have a silver rim with a thin black layer laid on top of it, but that still leaves a thin profile. Build quality feels impressively solid.
Turn on the screen and you get a gorgeous HD Super AMOLED display. I'm always impressed by the bright colors and deep blacks of AMOLED displays, and seeing it on a 1280 x 800 screen is amazing. The rest of the specs range from solid to impressive, including a 1.4 GHz dual-core processor and 16 GB of internal storage. Forgetting the size for the moment, this is a fairly standard Galaxy S II device. The two big exceptions are the LTE radio, for AT&T's blazing fast 4G network, and the S Pen stylus, which is a fantastic drawing tool.
AT&T's LTE network is impressive. Really impressive. So impressive that it blows even Verizon's LTE out of the water in a speed test. At 4 — 6 mbps, my Galaxy Nexus is fast, but 14 — 20 mbps on the Note is just insane. If it can maintain these speeds as more customers move to LTE, people may have to stop making fun of AT&T's network.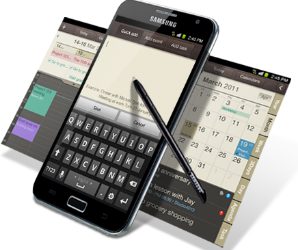 The S Pen is a real oddity in the current market. At first, it feels like using a stylus off of my old Windows Mobile phone. It even slides into a convenient storage compartment the same way those cheap plastic tools did. But the S Pen is supposed to provide a lot more sensitivity, making the Note an ideal device for artists. I can't speak to that personally, but I can say I would be just about useless at Draw Something without it. The S Pen also provides you with gesture controls for navigating the device, taking screenshots, and opening a quick note taking app. It's not vital to the Note, but it's a pretty useful differentiator for a device that is clearly not aiming for the bulk of the market.
Battery life is one of the few serious compromises on the Note. You'd think that 2,500 mAh is a lot, but the combination of that tremendous screen and LTE can run through battery life surprisingly fast. The result is a phone that lasts about as long as most LTE devices, which is to say, not long enough. Make use of WiFi when it's available, and if you're a heavy user who's always on the go, get a spare battery.
The Note is running on Android 2.3 (Gingerbread), with Samsung's custom TouchWiz interface. It should receiv an upgrade to Android 4.0 (Ice Cream Sandwich), but even running the older version, the Note runs smoothly. Performance is outstanding, but even more importantly, this is the first time I'm walking away with no complaints about TouchWiz. Samsung has clearly been working on the problems, and the company has built an interface that now provides a lot of nice improvements over stock Android without most of the compromises that drove me to distraction previously. If you don't need the rapid updates that come with stock Android, there's no reason to avoid this software.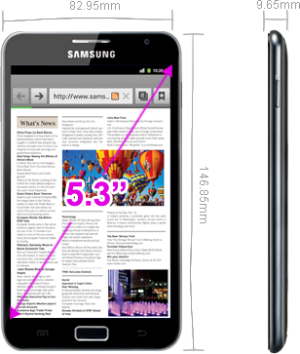 The size, on the other hand, does pose some issues. By positioning the Note squarely between phone and tablet, they've come up with a device that is too small for most tablet apps. Android 2.3 was clearly intended for phones, not tablets, which means tablet software may not even install in some cases. But the Note often feels too large for the phone versions. Trying to use Swype one-handed, for example, proved extremely difficult.
That being said, this is a device that compromises two physical scales, so I never really expected it to be the perfect size for either. It does handle the size blending reasonably well. Websites render as mobile versions by default, but the screen is big enough to enjoy full-screen content the way you would on a tablet. Even comic books are legible, which I found surprising.
When it comes to future proofing, the Note gets a surprising advantage for such a niche product. Because so much of the hardware is standard on Galaxy S II devices, there's a fair chance that the Note will be updated along with the rest of the line. Wait times will probably be quite long, as usual, but the Note will see Ice Cream Sandwich, and might even get an upgrade some day to Jelly Bean (Android 5.0).
If all else fails, there's always the custom ROM community. The Galaxy Note is already seeing custom ROMs and is proving popular enough that you'll likely have a lot of options if you want to go that route.
Samsung has an unusual hit on its hands here. The first phrase I thought of to describe the Note was "stupidly big", but that size makes this a fantastic multimedia device. A stylus feels archaic, but ended up perfectly timed to coincide with the growing popularity of Draw Something. It's the most expensive device on AT&T, but that high price will save you several hundred dollars if you're willing to forgo a full tablet and work with a compromise solution. I can't say it's the phone for everyone, but if you're in the market for a smartphone and a tablet, it's definitely worth a look.