Tech Companies And Good Samaritans Step Up In Aftermath Of Superstorm Sandy
By Paul Hurwitz. November 2, 2012, 1:10 PM CDT
I drove from Boston to Queens, NY today so that my family and I could be part of my wife's nephew's bar mitzvah. The ceremony was originally supposed to take place in his own community of Long Branch, NJ, but the family was forced to move it to my wife's parent's synagogue in Queens because Long Branch is reeling from the aftermath of Sandy and has no power. On the three and a half hour drive, we counted no fewer than three dozen power utility trucks and tree company trucks driving south in convoys. Some of the power utility trucks were from Wisconsin. The trucks came to help out Massachusetts in the aftermath of Sandy and now that their work is done in the Greater Boston area, they're heading south to the tri-state area to help there. We also spotted National Guard vehicles heading south in a convoy. This is only a small sampling of the companies of all sizes and good samaritans helping people out in the aftermath of Hurricane Sandy that bring out the good in just about everyone.
The first good samaritan item that caught my eye is this image posted by George Takei on Facebook. An 11-year-old girl in Hoboken, NJ who has power created a temporary internet cafe to allow anyone who needs to charge their devices. All she asked for was a small donation to the American Red Cross in return.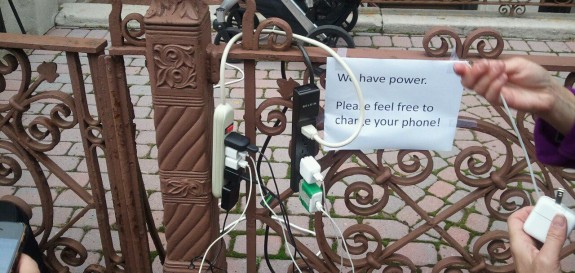 In addition to this young girl, companies are also stepping up to help people power up. Duracell has deployed its PowerForward trucks to give out free batteries and give people a chance to charge their mobile devices. Verizon has also deployed Wireless Emergency Communication Centers to allow people to charge devices. Verizon is also providing free use of internet-connected devices at these centers to those who need, and it has announced the suspension of late fees and device disconnects because of late payments. AT&T and T-Mobile announced they are opening up their cellular networks to each others subscribers and not charging roaming fees. Comcast announced that its XFINITY internet service WiFi hotspots would be free to anyone in the areas affected by Hurricane Sandy.
Social media has also been playing a role in helping with the relief efforts after this frankenstorm. A page on
Facebook called Tri-State Weather
has been an amazing source of information, pictures, and updates on all things regarding Hurricane Sandy in the tri-state area.
Apple
's
iTunes Store is now accepting donations
to the American Red Cross and
stated
that 100 percent of every donation goes to Red Cross relief efforts. Google has created a
crisis map
on its
Google.org
site. Also, when you do a Google search for anything about Hurricane Sandy, you get a special Google
OneBox
for quick answers about Hurricane Sandy.
Besides tech companies, other companies are also stepping in to help out. JetBlue is sponsoring free food truck meals to anyone who needs with the NYC Food Truck Association. Bicycle accessory manufacturer Planet Bike and the advocacy group Transportation Alternatives, with BikeNYC, are sponsoring aid stations and free food to help out people who decided to bike into Manhattan because mass transit is not fully operation yet. Planet Bike is also giving out free lights to bicyclists. Some might say that TransAlt might have an ulterior motive to getting people to appreciate biking more, but I don't have a problem with that.
The National Guard is patrolling in many cities and towns in the hardest hit areas, and the news is full of warnings to make sure people don't get scammed when trying to repair their homes. So, there is definite worry about those with nefarious intent looking to profit from all the pain that people are experiencing in the aftermath of Hurricane Sandy. But there are a lot of people and companies that only want to help and are willing to incur significant expense to do so.  These companies and good samaritans deserve our praise and business when all of this over.
(Feature image via flickr user DVIDSHUB)

Paul is product manager at a software company in Massachusetts and an all-around technology geek. He also enjoys being outdoors and on his bike, so he can't claim to be a complete geek.