Techcitement Review: The Samsung Galaxy S II, AT&T Edition
By Mordechai Osdoby. October 28, 2011, 10:16 AM CDT
It's hard to imagine a better time for smartphone buyers. With last week's announcements of the new RAZR and Galaxy Nexus as well as Apple's iPhone 4S burning up sales records, you can pretty much be sure of a powerful, robust phone on any network. Except, what if you don't want to wait for the new phones to arrive or your local store to have the 4S in stock? Not to worry, Samsung has you covered. Samsung's current flagship, the Galaxy S II, is out on all four major U.S. networks and available right now. Techcitement is lucky enough to get its hands on a review unit for AT&T and put her through the paces.
Like the original Galaxy, the S II is a heck of a phone. It's a physically appealing slab, with the power switch on the right and volume on the left. The top has a simple headphone jack and the bottom is your micro-USB slot. It's a tad wider than the iPhone 4, but thinner and lighter. The extra width is actually a plus to me, as I found data entry easier.
Speaking of data entry, you do that via the screen. All four variants of the Galaxy S II are keyboardless, unlike the Galaxy S, which had a keyboard on Sprint. This is offset by the excellent word suggestions to speed up typing, but it's still not as natural a feel for some (ie, me). Swype is also loaded on the device and ready to be used, should you be a devotee of that particular input method.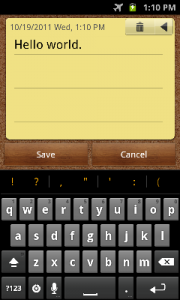 Like the Nexus S, the Galaxy S II has capacitive buttons on the front. For some reason, I find them a bit less awkward this go around. It's possible that this was due to the wider body or maybe I've just adjusted to it. Also like the Nexus S, the Galaxy II is loaded with Android Gingerbread, the most up-to-date version (although that's not going to be true for long). Unlike the Nexus S though, the Galaxy II comes with Samsung's TouchWiz skin for interfacing with Android.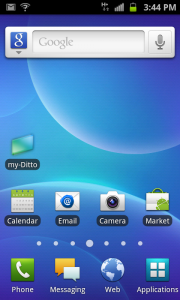 While TouchWiz is a minor tweak in many ways, it's enough to throw a stock Android user off for a good day or so. Adjusting to swiping sideways for Apps instead of down takes a bit. It's hardly a deal breaker. The phone also comes with a ton of pre-loaded apps, many useful and others that I'll probably never open. Some features, like AT&T Code Scanner, turned out to be a Market shortcut, and others like LiveTV required additional service (aka more $). Curiously, it comes with not one, but two voice assist apps. Neither really worked for me, which is disappointing in a  post-Siri era.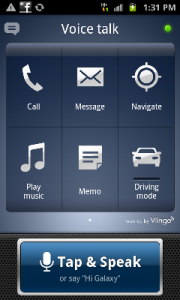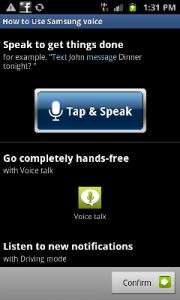 The look and feel of the phone, from design to skin, is handled well. The Galaxy S II became an object of desire in my household, with my wife and daughter almost constantly swiping it if left on a table.
One area in which the Galaxy S II absolutely ruled is file sharing. Instead of having to mount the phone like some other Android devices — or worse, go into disk mode like my Pre and TouchPad — the Galaxy lets you access the built-in 16 GB of storage (not counting the MicroSD slot that can fit up to another 32 GB) directly from Windows. Mac access requires a quick download for your machine, but the principle applies. The only downside is that you can't do anything during an actual copy, but that's more than I can do on my other phones. You can also use Samsung's Kies Air wireless syncing solution, something that was originally an option for the S and is now bundled in the S II.  After you copy those files, you can easily access them via the My Files app.
The rear/front facing cameras both do their jobs fine, with the rear camera clocking in at an impressive 8 MP.Adding the Google+ app means you can automatically upload your images too (don't worry, they don't auto-share, just upload). Another good thing is that the videos taken by the phone are MP4, which is better than some other phones I've tested which will use 3gp. Geotagging is easy and accurate, as are all the other location-based features I tested [Note: AT&T's Navigation App was not testable, but the turn-by-turn Google Navigation worked great].
Sound is great, even with typical low-end headphones, and videos played great on the stunning AMOLED+  screen. Light reflection was great too. As for telephone calls (you use your phone for that, right?), everything was crisp and clear. Despite horror stories of AT&T in my area, not a single call was dropped.
Alas, I cannot say the same for data. While HSPA+ speeds were reached in my New Jersey home, a place where Sprint barely gets a connection at times, I seethe exact opposite impact when I hit New York City. While I could always text and call, things like tweets and status updates would have to wait until I had data coverage again. Very annoying to a constant updater like me. It was also next to impossible to check my social networks at work, despite Samsung bundling in the hypothetically useful Social Hub app/widget (like a lighter version of TweetDeck, really, with the downside of needing to manually refresh).
Another ding against the phone is my big beef with Android, separate e-mail apps. Sorry, but I want to be able to manage my personal, techcitement, and What Were They Thinking?! correspondence from one app, and I certainly don't want to have to download another mail app to get access to a third account. This displeases me. My previous Android-kvetch about not being able to take screenshots no longer applies though, as Samsung has built a solution into the device.
I liked so much about the Galaxy S II that I really want to recommend it. However, while the hardware and software are up to snuff, the network this version is on is absolutely terrible. In today's always on environment, having a data connection cut out for hours as a time, like this phone did, is simply not cool. This, however, is not the fault of Samsung but that of AT&T. It's fortunate that this device is available on three other networks. While I have not reviewed those editions, it's simply not conceivable that they could be worse. Which is fortunate, as my wife has already requested that when she gets her next upgrade, I get her this particular phone.

One of the co-founders of Techcitement, Mordechai is a man whose obsession with tech once led his wife to refer to a laptop as "the other woman".