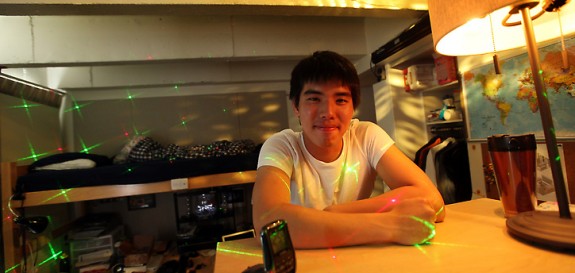 Berkeley college freshman Derek Low, known for his tinkering with various projects, may have created his biggest attention-getter yet with Berkeley's Ridiculously Automated Dorm (or BRAD). Low's dorm room makeover required several months of work and between $200 to $300 invested in off the shelf parts. The system integrates with the student's iPhone using an app he wrote and allows control of the curtains and lights via voice commands. The controls are combined with a motion sensor and automatic playback of music in various presets. For example, the system can wake him in the morning by opening the curtains, turning on all the lights, and blasting Justin Bieber's "Baby". Low says, "There's simply no way you can sleep through that without your ears bleeding."
BRAD also switches to sleep mode, homework mode, and even romantic mode (where a disco ball activates with soft lighting and Elton John music plays). There's even an emergency party button, complete with strobe lights, lasers, and UV lighting.
Unfortunately, mere days after the project was completed, a residence hall director summoned Low to a hearing this week, citing him with vandalism and other transgressions. College spokesperson Marty Takimoto claims the school has concerns about the electrical connections, but Low claims an electrician already examined his work and found nothing wrong. Low claims he was careful to follow Berkeley rules requiring wiring to be taped, not stapled or nailed to walls, and says the whole thing can be "cut down in ten minutes."
Perhaps, he simply called too much attention to his work when he posted a a five-minute-long demonstration on YouTube earlier in the week. The video quickly went viral, causing his fourth floor dorm room to receive a steady stream of curious visitors. One of his two roommates, Jimmy Li, said, "I guess it's pretty cool the way it came together, but I didn't expect it to go so far."
Although Low argues his work brings Berkeley only positive attention and claims it's about "innovation and creativity", he also has a solution in mind for the college's problems with it. Low plans to move out of the dorms in two weeks and to reuse his creation in his new apartment. Let's hope his future landlord doesn't have a problem with that.