VizTools Wants To Turn Your DSLR Into A Camcorder
By M. Gilden. April 23, 2012, 4:00 PM CDT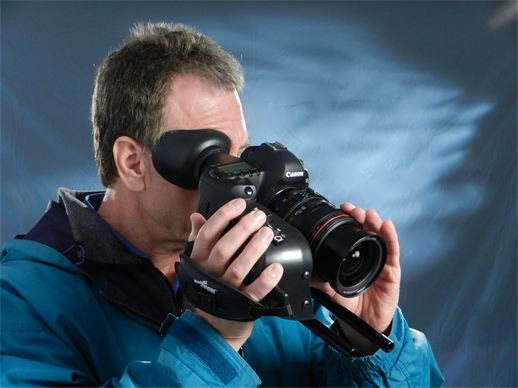 So, we get it. DSLR cameras are being used for professional and consumer video these days. A lot. But that doesn't mean they are designed to fill the role of a traditional video camcorder. Proponents of larger ENG style professional cameras often mock the DSLR video ergonomics, pointing out that smooth elegant zooms are required to do what they do. Anyone who shoots live events, sports or documentaries will tell you that having a smooth servo controlled zoom is not only practical, but often a necessity. But SLR lenses don't offer motorized zooms; rather, they are manually zoomed by rotating or sliding the barrel. This is fine if composing your shot before hitting the shutter, but try to adjust it during a video recording session and you'll find the movement very jerky and unpleasant to look at.
Enter VizTools and their proposed HandiZoom product. On display at the NAB 2012 show in Las Vegas, the HandiZoom is a motorized gear that attaches to your zoom lens and offers camcorder-style ergonomics to hold the camera steady and smoothly zoom in and out with variable speeds. It even supports a remote control for tripod-based hands free usage.
The problem, in my opinion, is that this model appears to be designed for Canon cameras, which currently do not autofocus in video mode. That means that even if you servo zoom, you will still need to manually fumble with the focus. However, I'm sure this design can and will be adapted to other camera systems, as well as Canon offering autofocus video in the near future. Either way, check out the demo video at the recent showcase event:

When not blogging about tech, Mordy Gilden is a filmmaker and an animator. A self proclaimed mobile enthusiast, Mordy considers every "Can a cell phone do that?" as a personal challenge. Also a moderator for the film making forum DVXUser.com, camera nut, and all around nice guy.