No Student Loans Needed For These Free Online College Courses
By Tom Wyrick. April 13, 2012, 9:00 AM CDT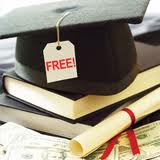 College tuition may be rising in cost at a rate faster than even medical expenses, but several entrepreneurs want to offer you free courses via the internet. Udacity accepts new student enrollments for any of six computer software-related courses beginning on April 16. The site began last November, when Stanford computer science professor Sebastian Thrun resigned, with intentions of starting the new online education venture. Course CS101, titled "Building a Search Engine", teaches the Python programming language and has already completed its first class with overall positive reviews from students. Blogger Jeffery Pomerantz even said, "I'm finding the course so compelling that I want to work on it all the time. I had a hard time this week stopping once I'd started."
MIT dabbles in the concept of free online courses as well, offering their Circuits and Electronics class via MITx, with a promise of more free courses to come. MIT is already known for their pioneering effort in offering viewable online versions of over 200 of their classes via OpenCourseWare, but the MITx project features true student to professor interaction and awards certificates to those who master the material.
Of course, those who simply wish to learn at their own pace from video presentations also have the option of utilizing Kahn Academy. The non-profit organization wishes to offer anyone an opportunity to use their resources and includes functionality for teachers, coaches, or parents to see a student's progress as he or she uses the site.
You may need to take out a student loan to earn a degree, but a growing number of online resources can provide the knowledge and the learning tools at no cost.

Tom Wyrick is network manager for a steel fabrication company by day, and owner of Wyrick Consulting, an on-site PC and Mac service business. He's recently been told he "has more computer power than some 3rd. world countries" at home.