Apple Releases Big Cat Number Eight
By Tom Wyrick. July 26, 2012, 9:00 AM CDT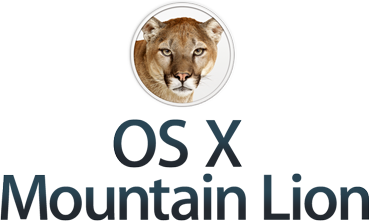 Apple recently released its eighth version of Max OS X with Mountain Lion. Priced at only $19.99 as an Apple App Store internet download, Mountain Lion promises over 200 innovative new features. The highlights include:
Full iCloud integration for easy set up of your Mail, Contacts, Calendar, Messages, Reminders and Notes, and keeping everything (including iWork documents) up to date across all your devices.
Notification Center, which mimics the notification bar found in iOS 5, allowing both Apple and third party applications to queue centralized notifications for easy viewing and handling.
System-wide voice dictation support.
A new Messages app that replaces iChat, giving users the ability to message iOS device users as well as other Mac users.
Airplay Mirroring, allowing 1080p video content to stream wirelessly to an HDTV with an AppleTV attached or to stream audio to AirPlay compatible speakers or receivers.
System-wide Facebook integration, including ability to update your Facebook status from the Notification Center (*Coming in a future Mountain Lion software update).
System-wide sharing with single sign-in to third party services used with it (including Vimeo, Flickr, and Twitter)
Game Center application brings the social gaming network used in iOS to OS X.
Beyond these heavily promoted items, Apple also includes an updated version of the Safari web browser (a separate download for OS X Lion users). Along with the usual promises of faster performance, it brings such improvements as support for the "swipe to navigate" trackpad gesture with PDF documents, ability to restore a user's tracking cookies without restarting the browser after private browsing mode is used, and a single field for both typing in URLs and performing searches. A new password pane allows managing saved website passwords, and a "Do Not Track" command can now be sent to request a website you visit not to track your activity online. An offline reading list saves copies of entire web pages for viewing when the user lacks an internet connection, and Chinese users now have integration of their widely used search engine, Baidu.
My first impression using Mountain Lion is it's worth the inexpensive upgrade price (free for those of you who purchased a new Mac on or after June 11, 2012). It feels more like a "service pack" Microsoft Windows users receive at no charge than a whole new operating system, except it does include several brand new applications. If there's any one identifiable theme for this upgrade, it's connectivity. More than ever before, OS X integrates with internet services and other networked devices. In some cases, Apple's decisions of how this integration should work butts heads with arguably superior third party solutions. (iCloud support for storing iWork documents is a prime example. While this feature may work just fine, many users would prefer a solution along the lines of DropBox instead, where any document can be stored on a virtual drive in the cloud.) In other cases, Apple is on the right track, continuing to enhance concepts like AirPlay, which receives growing support from stereo speaker and receiver manufacturers. With display mirroring to AppleTV boxes, I envision many corporate and educational users implementing a large screen LCD TV with AppleTV attached for presentations instead of setting up a projector.
This release may please users who were unhappy with aspects of Lion by addressing the details. For example, iCal restores the sidebar that disappeared in Lion, and Contacts brings back the three-column view. The functionality of Expose also makes a return in Mountain Lion, with the ability to ungroup application windows when in Mission Control. Other new tweaks include making it more difficult to accidentally remove items from the dock and full two-way sync support for all of your Google calendars from iCal.
Mountain Lion won't bring back the PPC application support last seen in OS X 10.6 Snow Leopard (via Rosetta), but for everyone else ready to move forward, it's a solid update.

Tom Wyrick is network manager for a steel fabrication company by day, and owner of Wyrick Consulting, an on-site PC and Mac service business. He's recently been told he "has more computer power than some 3rd. world countries" at home.