Last week, Yoni Gross wrote an article comparing four different storage cloud vendors, including the long-awaited Google Drive. All of them have their strengths and weaknesses, with their own devoted followers. Personally, I've been using Dropbox for several years. I started with the free 2 GB, and through referrals and the doubling of the referral bonus, I'm now up to 18.4 GB for free. Newcomer to the cloud storage game is LogMeIn's Cubby.  Cubby is in closed beta and you can submit your email address to receive an invitation. I've already noticed that technology from other LogMein services are present in Cubby, including their VPN service, Hamachi.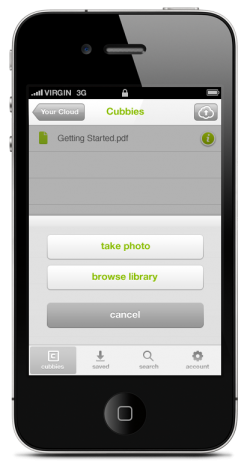 Cubby's features take their cue from the other cloud storage options out there.  There's a desktop app for syncing that allows you to create as many Cubbies as you want, wherever you want on your computer, similar to SugarSync. The desktop app is simple and easy to use. I prefer the Dropbox method of keeping everything within one folder, but the Cubby desktop interface gives you a screen with shortcut links to all the Cubbies on your machine. Cubby also has iPhone and Android apps. The iPhone app has two features I find better than in the Dropbox app. First is the ability to take a picture using the built-in iPhone camera app and saves the picture directly to a Cubby; the other bonus feature is the ability to see the sharing options for a file without having to click on the file itself and open it.
All of the existing cloud storage vendors have their own unique features, but they share one common feature in the Cloud. For a file to be available to another machine, it must be synced to the cloud (with exception of Microsoft Skydrive's new feature that allows you to search your other Skydrive machines from a computer, but not from within the Skydrive website). Cubby's differentiating feature is that it allows for unlimited peer-to-peer file syncing. Using technology from LogMeIn's Hamachi, you can add a file to a Cubby and choose other computers linked to your account to sync the file to, without storing it in the Cloud and using up your 5 GB storage quota. What's even better about this feature is that the  Cubby is shown when you login to the Cubby.com website.  You can't see the files because they aren't synced to the cloud, but you can see that there is a Cubby that isn't synced (see website screenshot). The part of this feature that really blows me away is that you can change the sync settings of a Cubby right on the website or any machine that has your Cubby.com account linked but is not synced. This syncing feature provides outstanding built-in flexibility.
LogMeIn's CTO, Martin Anka, commented on that flexibility when he said, "When it comes to sharing data in the cloud today, most solutions on the market are ultra simple but inflexible, or highly flexible but inherently complex.  We see Cubby as an opportunity to deliver an ideal balance of simplicity and flexibility."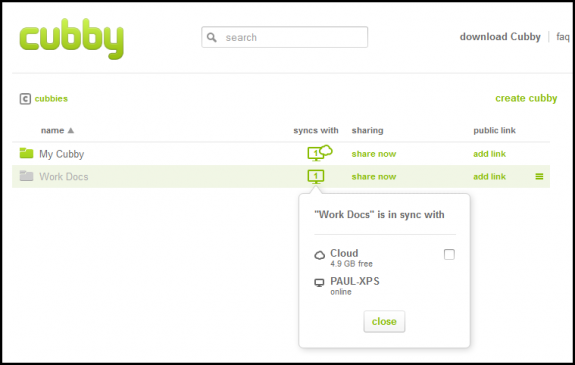 Behind this new service and key to LogMeIn's future services is the brand new Gravity Data Services, LogMeIn's proprietary data storage cloud. Gravity data services has been built from the ground up to provide highly-scalable data synchronization and storage services at a low cost and was designed to help bring new services, like Cubby, to customers. "Anywhere, anytime, any device access to information is quickly going from aspiration to expectation, and we're only in the beginning of the post-PC era. We believe Gravity Data Services will play a key role in delivering the essential cloud services required in a time when virtually anything can be connected to the internet," said Michael Simon, LogMeIn's CEO.
According to the product marketing manager at LogMeIn that I spoke to, the company is especially interested in seeing Cubby used in the workplace. It will be interesting to see how this newcomer fares against the incumbents, but LogMeIn has a huge customer base from their existing services that could speed its adoption.
On a daily basis, I use most of LogMeIn's products: Logmein Free, Pro, Central, Hamachi, Rescue, and Join.me. I welcome another quality tool from this company.