For years now, it's been drilled into our heads that good security is an important part of a desktop computer. While we know that the same holds true for mobile devices, there seems to be some disconnect between this fact and the way we use our devices. Whether the wireless nature of the technology gives us a false sense of security or we're that darn lazy, two mobile security watchdogs sounded the alarm this month that security threats are on the rise, and Android users are the most common target of malware and spyware.
This shouldn't be all that surprising. Canalys, an IT analysis firm based in Singapore, released its own report this month showing that Android now accounts for 48 percent of all smartphones globally as the market grew 73 percent year-on-year. With that kind of market share in a market growing that rapidly, there is money to be made in exploiting Android's weaknesses.
Industry stalwart McAfee (now a subsidiary of the Intel corporation) released its second quarter security report this week, revealing that Android is the target of about 60 perecnt of attacks, three times more than second place Java Micro Edition.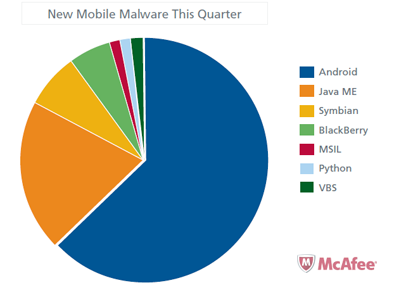 From the report, embedded in full below:
As we watch steady, significant growth in the mobile malware threat landscape, many of the same functions and features of PC-based threats are already part of the codebase. Mobile threats already take advantage of exploits, employ botnet functionality, and even use rootkit features for stealth and permanence.
McAfee Quarterly Threat Q2 2011
McAfee isn't the only company seeing this problem. Lookout, a smartphone security firm that we have cited before, released a report earlier this month looking at trends in the last six months. They have much to say, including this alarming statistic.
According to our data, in June of 2011 Android users were two and a half times more likely to encounter malware than just six months ago. While malware has increased at a faster rate than spyware, Android users are still slightly more likely to encounter spyware than malware.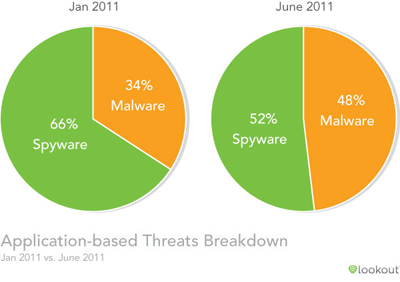 You can read and download the full Lookout report here:
Lookout Mobile Threat Report 2011
What does this all mean for we Android faithful? Both McAfee and Lookout recognized that malware-laden apps are the source of the problem. Only download from trusted app marketplaces. I restrict myself to the official Android Market and (in a pinch) the Amazon marketplace.
Even with that restriction, be careful what apps you're downloading. Check out the app's reviews and look at the developer's other apps. Make sure you're getting the official app and not a knock off with the same name, uploaded by someone else.
And for heaven's sake, install a security app on your device. I use Lookout Security & Antivirus. It's free and easy to use. McAfee's WaveSecure is also available, though it comes with a cost of $19.99 annually.
Ultimately, you're in charge of security for your device. Be vigilant and be wary. This is the cost of using the most popular mobile technology. Sure, you could settle for a Palm Pre and not worry as much about malware, but that comes with its own set of hazards.