MythTV Moves To Latest Milestone
By Tom Wyrick. April 11, 2012, 9:00 AM CDT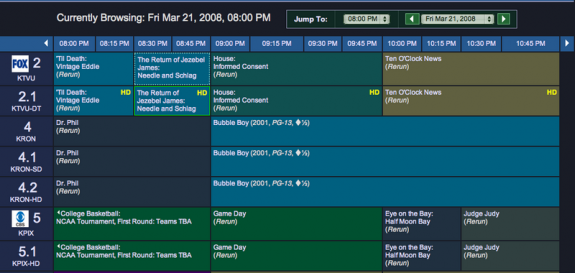 The popular open source DVR, MythTV, announces a new release today with version 0.25. Features added with this release include HTTP live streaming capabilities, IPv6 support for both the back end and front end clients, Apple AirTunes and AirPlay support for streaming both audio and video content from iOS devices, VAAPI support (a video acceleration API allowing hardware offloading of video decoding tasks) and support for pass-through of E-AC3, TrueAudio and DTS-HD digital audio formats.
The MythTV project has been around since 2002, spawning several attempts to bundle the application and the Linux OS into a user-friendly installation CD. One of the more popular editions was KnoppMyth, which is superseded by LinHES. As per usual, these distributions need a little bit of time to incorporate the latest MythTV upgrade, but will surely include it in short order. Additionally, projects now exist to port MythTV to run on other platforms including Mac OS X and official Windows support (though you still have to compile your own executable file from their source code).
While MythTV has traditionally been a "roll your own DVR" solution for computer geeks, the software has become full featured and stable enough to justify several small businesses selling pre-built commercial versions. For example, OpenMedia in New Zealand offers the myPVR, and MediaIMPACT Technologies of Kentucky offers The Spectrum DVR (only for customers located in Indiana, Kentucky, Ohio or Tennessee).
Despite the new additions and changes, the basic menu structure is pretty much the same as ever. It consists of MythArchive to allow archiving your recorded video content onto DVDs, the MythBrowser web browser, MythGallery for viewing photo collections, MythGame which organizes and launches your collection of games for the MAME or SuperNES emulators, MythMusic for playing your digital music collection, the MythNews RSS newsfeed reader, the MythNetvision module for viewing YouTube, Dailymotion and other such streaming content, MythVideo for your saved movie and/or video content, MythWeather for the current forecast and weather radar maps, and last but not least, MythWeb to allow remote scheduling and managing of saved programming from any web browser. If your cable or satellite provider's digital video recorder doesn't meet all of your needs and you're looking for a new computer project to tackle, a MythTV could be just what you need.

Tom Wyrick is network manager for a steel fabrication company by day, and owner of Wyrick Consulting, an on-site PC and Mac service business. He's recently been told he "has more computer power than some 3rd. world countries" at home.