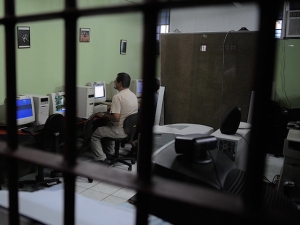 Yesterday, Facebook's Security Department was contacted by the California Department of Corrections and Rehabilitation (CDCR). No, it's not because of the social network's obtrusive new chat layout, but it does have to do with growing concerns over security and privacy issues in a tangential way. The CDDR requested that any Facebook accounts set up or monitored by a California prison inmate be taken down.
"Access to social media allows inmates to circumvent our monitoring process and continue to engage in criminal activity," CDCR Secretary Matthew Cate said. "This new cooperation between law enforcement and Facebook will help protect the community and potentially avoid future victims."
There are multiple ways to be a prison pen pal over the internet, but the idea of prisoners having readily-available access to such a wide-reaching and free outlet to the public such as Facebook can have frightening consequences. The risks are much more worrisome than the newly imprisoned spam king cluttering up your Facebook profiles with links of videos that don't exist.  For instance, a child molester sent drawings of a 17-year-old girl to the girl's family's house and the CDCR wasn't made aware of this until the mother contacted the department. The prisoner managed to precisely recreate images of the girl's current looks, down to her hairstyle and current clothing choices, even though he had been in prison for up to seven years.  After a thorough investigation, it was revealed the inmate used an illegally obtained cell phone to view the girl's profile on Facebook. The rise in cell phones that the CDCR has seized from inmates has gone up from 261 devices in 2006 to almost 8,000 this year. CDCR is taking actions now on cracking down on this proliferation of cell phones in its prisons.
While there are plenty of legitimate reasons for prisoners to have access to computers (taking classes, researching the law, or even monitored access to emails to contact loved ones), removing their access to Facebook or any other social networking site is perfectly within the appropriate bounds of privileges they lose when becoming an inmate. Maybe the CDCR can offer inmates a Facebook substitute, an alternative that the agency doesn't have to worry about prisoners interacting with the outside world. MySpace, anyone?