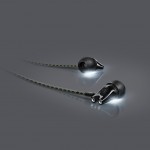 Sometimes just listening to things isn't enough — you need to have sound shoved into your skull in the most efficient way possible. To that end, Sennheiser announced the release of two new products today, the IE 800 headphones and the HDVD 800 dynamic headphone amplifier.
The IE 800's feature technology were only seen before in Sennheiser's high-end over-the-ear cans, but are now squeezed down to in-ear size. A vented magnet system, which kind of makes the buds look like they were attacked by a tiny vampire, reduces total harmonic distortion to less than 0.06 percent. It also features what Sennheiser claims is the smallest wide-band sound transducer currently available in dynamic headphones at a diameter of 7 mm.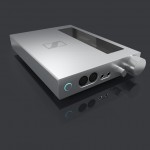 The HDVD 800 is more about taking audio from your source, putting it into sound boot camp, yelling at it in scary-sounding German words until it becomes Schwartzeneggerian in capacity, and then shooting the sound into your ears with a fully symmetrical layout and sampling frequencies of up to 24 bit/192 kHz. If you're trying to compensate for the less-than-stellar sound in your iPhone… actually, just going by the stats, these may be overcompensating, but they should sound awesome. You'll have to wait, though, as they aren't scheduled to be out until September.